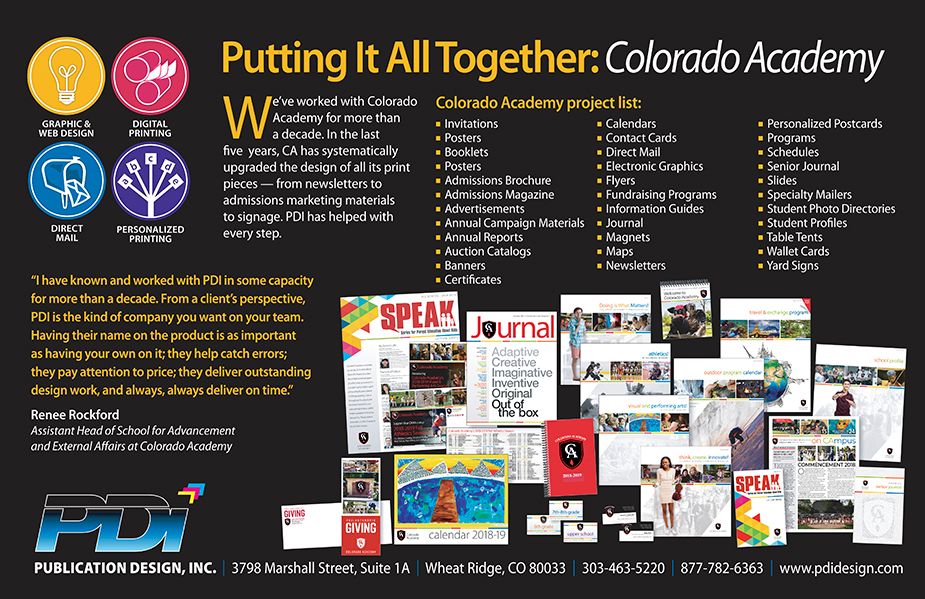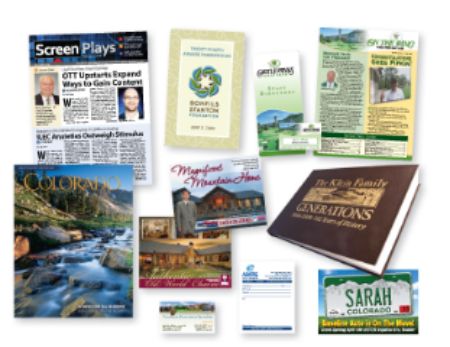 We have a passion for helping our clients.
Publication Design is a graphic design and marketing services company that is also in the printing and mailing business. Words, colors and fonts flow through our veins along with a little bit of printer's ink. Our hearts beat faster when we can help our clients solve their marketing problems with good planning, outstanding graphic design, printing and mailing.

Effective marketing starts with outstanding graphic design.
Effective marketing depends on a number of factors: knowledge of the product, who are the targets, the quality of the database, and the relevancy of the offer. But it all starts with effective graphic design. PDI art director Cindi Sherman has more than 30 years of experience in working with all sizes of projects for many different types of businesses. During her 17 years with PDI, Cindi has won many local, state and national design awards. She and our associate designer Charlie Amrich understand budget constraints, tight deadlines and project management.

PDI designs half of what we print.
What does that mean for your business? We can control the entire process from creative concepts to the final printed piece. We determine when your project goes on the press, not an outside printer. And, we control the quality. We entered the printing business in 2001 to ensure that our customers get personalized service from design conception to mailing.
Beware of printing companies that suddenly have started calling themselves designers or marketers - it's a tough transition.
Click here to learn more about Digital Printing.

Our design services include, but are not limited to:
• Magazines
• Newsletters
• Advertising
• Mailers
• Packaging
• Brochures
• Logos
• Posters
• Postcards
• Stationary
• Illustrations
• Websites
---
Marketing for businesses is often a game of old world vs. new world. But instead of pitting the two against each other, it's time to reframe your thinking.
What works for one generation may not work for another, and that's okay. Let's look at how you can make sure your products are appealing to various generations and demographics.
It's time to gift some swag to those you love most. Not only does it show your customers and employees that you care, but it also keeps your brand top of mind.