Frequently Asked Questions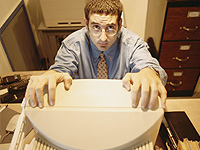 Here you'll find answers to common questions our clients ask. Start by selecting one of the links below. If you don't see what you need – call or contact us online.
Can you finish my job by tomorrow morning?

Probably, if it's not a tremendously large quantity. Our standard turn-around time is two to three working days, so if you need it faster, your job will cost more. Please talk with your sales representative for charges on expediting your job.

What file format should I use when submitting my electronic document for printing?

PDF (Portable Document Format) is the most common and preferred file format for submitting digital documents. With the installation of a PDF print driver on your computer, virtually any program can generate a PDF file suitable for printing. Both commercial and free PDF print drivers are available online for download from different sources.

Are you a "green" company?

Absolutely! In addition to energy-efficient equipment and chemical-free technologies, we can perform many print jobs using recycled paper stock. If you would like to use recycled paper for your next print job, let us know. You'll be pleased with the results and feel good about helping the environment, too.

My sales team has a contact database, and I've got a Rolodex full of names and numbers. Can we do direct mail?

Sure. The most cost-effective route is usually for your company to gather the contact names, titles, company name, addresses, city, state and ZIP into an Excel spreadsheet. If you don't have Excel, don't worry as most software allows information to be exported to a "Tab-Delimited" text file or similar format. An ordinary text file (MS Word, or other Text programs) can be used if the information is consistent (that is, the names, addresses, etc., are always in the same order, and are separated by a comma, a tab or a return in a consistent pattern).

At what resolution should I save my photos and graphics?

Resolution should be set to 200 to 300 dpi. Resolution less than 200 tends to make your pictures fuzzy. Resolution higher than 300 dpi just eats up hard disk space. But picking the correct resolution is just one piece of the pie. When working with pictures in a program like InDesign, it is important to size the original picture to match the size on the page. In other words, don't put a 16" x 20" picture into a 3" inch picture box in InDesign. Also, please save all your pictures as CMYK, not RGB. Our color presses print using four "process" colors - cyan (C), magenta (M), yellow (Y) and black (K). RBG is used to display pictures on a computer screen - red (R), blue (B), green (G).

Pictures and graphics pulled from the internet - and some cell phones - are often low resolution, typically 72 dpi or 96 dpi. Avoid these, as they will appear pixilated and blocky when printed.

If you need any help with pictures, please call us before you submit your job for printing.

Why do the printed colors look different from the colors on my screen?

Monitors use the RGB color model, which usually supports a wider spectrum of colors. Printers use the CMYK color model, which can reproduce most – but not all – of the colors in the RGB color model. CMYK generally matches 85–90% of the colors in the RGB model.

How does PDI's online print ordering system work?

It's simple. Just enter the specifications of the work you need: Size, color, quantity, deadlines, etc. We'll review the information, give you a firm cost estimate and establish a time frame for proofs, printing, bindery, delivery and mailing. We'll create a permanent, password-protected home for you on the site, archive materials that may need to be reprinted, and give you editable templates for commonly used materials such as business cards and brochures.

Tips on file format setups

Many layout programs have collecting or packaging functions that will automatically collect your document, fonts, all art including and a report. When possible, it is recommended to use these functions because without any or all of these elements we will be unable to print your postcard.
• Enclose all screen fonts and printer fonts
• Include all placed images
• Make sure your files are set with proper bleed, trim and safety areas.
BLEED: All art trimming off the edge MUST be pulled out 1/8" beyond the trim line
TRIM: This is the guideline where the card will be cut
SAFETY: All art and text within this safety area will assure that nothing will be trimmed off during the cutting process. A 1/4" guide in from the trim should work fine.

Tips on how to save your design files

Make them print ready and acceptable for us to print.

COREL DRAW:
Saving your Corel Draw file as an Adobe Illustrator EPS
• Embed all Images
• Convert all your text/copy to outline fonts
• Export as Illustrator EPS

FREEHAND:
• Embed all Images
• Convert all your text/copy to paths
• Export as Illustrator EPS or PDF

PAGEMAKER:
Saving your PageMaker file as an EPS
• Embed all Images
• Convert all your text/copy to outline fonts
• Export your file as an EPS using the below settings:
Postscript Level 2
CMYK Mode
TIFF format and
Binary

PUBLISHER:
You will need to have the full version of Adobe Acrobat PDF. If you don't please download and use our Adobe Job Ready Program. If you do have the full version of Adobe Acrobat PDF please follow the steps below.
Under File, Print, select Adobe PDF writer
Under Properties select Press Quality and Save your PDF

What do I need to provide for variable data projects?

We work with many types of data files, but CSV files are the safest bet. These are data files that have commas separating each field, and returns separating each line of data. To save time and hassle, make sure your data is properly formatted with each piece of data in separate fields.

Complex projects may require other files, like image files or additional data files. If you are unsure of what may be required for a particular variable project, give us a call for a free consultation.

What does personalization mean?

Personalization is another term for variable data—technology for printing documents so that each piece is personalized to the specific recipient.

Personalizing can be as simple as a unique name and address on every printed piece. But more sophisticated levels of personalization can include text or images that vary based on data specific to the recipient, or data-driven graphics such as a pie chart illustrating something specific to the recipient.

What forms of payment do you accept?

We accept cash, company check and all major credit cards. We can also set up a business account for you, as well. Contact us for details.

What happens next?

We'll use our software to print address information at the same time we're printing your text and images, saving the time and expense of a separate labeling process.

We can even take information from your database to insert custom text and unique images onto each individual piece. For example, you might print "Hi John. How's the bakery business in Dallas?" with a photo of the Dallas skyline in the background of one piece; and "Hi Marybeth. How's the computer business in Los Angeles?" with a surfer picture as the backdrop.

You can even substitute words, phrases or entire paragraphs seamlessly, reaching thousands of prospects with one mailing – each receiving a message tailored to their location, industry or purchase history with you. A computer company, for example, could promote special pricing on printers to previous buyers, while promoting software specials to frequent buyers in that product line.

And keep in mind: If your company doesn't have the staff or expertise to create, format, maintain and update databases, PDI can do as much – or as little – of this work as you choose, at a price you can afford.

What is coated paper stock?

Coated paper stock is a premium, high-quality paper that has been given a smooth glossy finish designed specifically for documents that require sharp details and vivid colors. Uncoated paper, by contrast, is relatively inexpensive but porous, and is best suited to the printing of black and white text documents.

What is the Pantone Matching System?

The Pantone Matching System (PMS) is a color reproduction standard in which colors all across the spectrum are each identified by a unique, independent number. The use of PMS allows us to precisely match colors and maintain color consistency throughout the printing process.

What is variable data printing?

Variable data printing is technology for printing documents so that each piece is personalized to the specific recipient. At the most basic level, this means personalizing a name and address. But for real impact, many projects include unique graphics and content that speaks directly to the recipient.

What's the difference between Digital printing and traditional presswork?

The distinction is narrowing. Color reproduction and image clarity on modern digital presses are comparable to offset printing – and may even appear brighter and clearer in many instances. The principal advantage to digital printing is speed – PDI uses Xerox color and B&W presses that print directly from digital files. Proofing is quicker and more accurate because your proof is produced exactly as the finished product will be. Cost is another big plus with digital printing – particularly in small to moderate quantities – largely because prep costs are minimal.